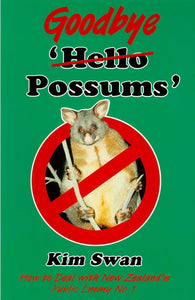 Kim Swan's lifetime of possum hunting experience will benefit any person 
who ever wondered
....What left their lemon devoid of rind but still on the tree, where the walnut crop went, what pooed on their picnic table, what scratched the dog's nose, what the kids had bailed up in the wood shed. 
If you
 like or love your home garden, your orchard, your woodlot, your stock, healthy forests, native trees, endangered bird life, export earnings...You should 
read
 Kim Swan's book and learn how to do something about the threat to all of these things? Because we all have a responsibility to say 
Goodbye Possums
!