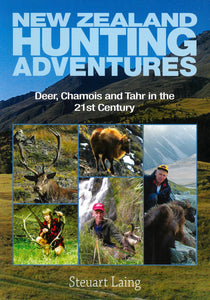 Tens of thousands of men and women regularly hunt for big game in New Zealand and not surprisingly, many books have been written about the sport of hunting. Many of these books are memoirs about lifetimes spent shooting deer for fun or for money. 
New Zealand Hunting Adventures stands apart because, while it has been written by an experienced hunter, the stories are based on recent hunting escapades on public land. Steuart Laing was spurred into serious writing after his wife bought him a digital camera, so each story is accompanied by a great set of pictures. 
All New Zealand hunters, whether they are dabblers or diehards, will enjoy these modern hunting tales about chasing deer, Chamois and Tahr in the forests and mountains of the North, South and Stewart Islands.