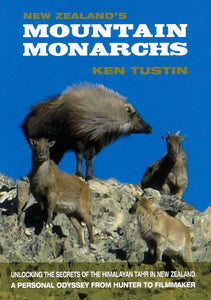 The sub-title of this book is Unlocking The Secrets Of The Himalayan Tahr In New Zealand. A Personal Odyssey From Hunter To Filmmaker.
A century ago, a little-known, exotic animal, the Himalayan tahr, was introduced into New Zealand for big-game sporting purposes. From a few releases at Aoraki Mt Cook, tahr are now permanent inhabitants of the sub-alpine zones in the central Southern Alps. Their ecology, lifestyle and unique behaviour, both here and in their homelands, remained largely undocumented. Until now.
Ken Tustin was drawn to working with Himalayan tahr: As a hunter, scientist, helicopter pilot and recently as a documentary film-maker. His involvement with tahr spans 45 years.
It is the intimate story of Ken Tustin's growing respect for a remarkable animal, seen over a lifetime, through the eyes of a hunter, researcher, pilot and behaviour-study film-maker. One man's quietly increasing affection for an extraordinary wild animal: The Himalayan tahr.