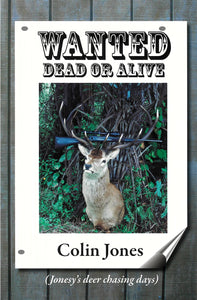 This is the second book in the continuing saga of Colin Jones and his deer chasing days.

The deer culling days were over and now with a young bride and children, Colin had to turn his hand to feeding the whanau and putting a roof over their heads. A job as a car salesman lasted most of the first morning before Colin realised that it was not for him.

Meat shooting provided an income but things really took off when live deer were suddenly worth $3000 each. Armed with some flash pakeha technology Jonesy took to the bush to capture them alive.
Deer, pigs and the bush form the backdrop to this engaging tale as Jonesy tries a whole lot of different ways to make a living from the things he knows best. So sit back, relax and relive the years and yarns with Colin Jones.